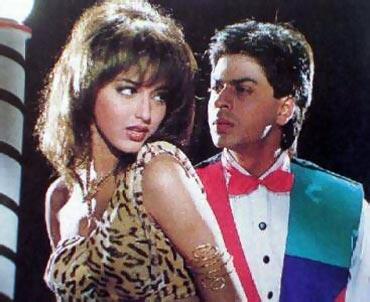 T
he biggest budget Indian movie of all time may be earning cash at the box office, but people don't seem impressed, right from you, dear readers, to critics.
Not that Ra.One is Khan's only disaster.
Here's my list of the 10 worst films Shah Rukh Khan's been in:
10. English Babu Desi Mem
The first time Khan played more than one character in the same movie, he didn't stop at a double-role. Shah Rukh played twin sons and their father in this frequently cringeworthy film which also features Sunny Singh, that cute kid from Dekh Bhai Dekh, being as annoying as can be.
Image:
Sonali Bendre and Shah Rukh Khan in English Babu Desi Mem
9. Karan Arjun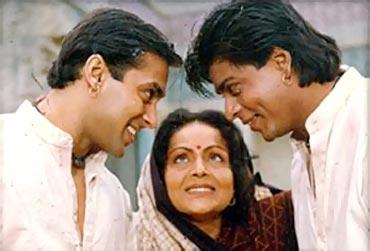 B
efore the triple-role, however, he did technically play two parts in this unbelievably cheesy Rakesh Roshan reincarnation saga starring Shah Rukh alongside Salman Khan.

To their credit, both leading men commit to the hamming, but are quite outdone by Rakhee wailing "mere bete aayenge" seemingly drunkenly.
Image:
Salman Khan, Rakhee and Shah Rukh Khan in Karan Arjun
8. Oh Darling! Yeh Hai India!
D
irector Ketan Mehta tried to do a lot with this madcap satire featuring dialogues in verse and India being sold for one rupee. But despite the occasional moment or two of clarity, this is a muddled up and quite atrocious mess of a film.

Credit to Khan for doing this the same year he did Dilwale Dulhaniya Le Jaayenge, his biggest mainstream success.
Image:
Deepa Sahi and Shah Rukh Khan in Oh Darling! Yeh Hai India!
7. Ye Lamhe Judaai Ke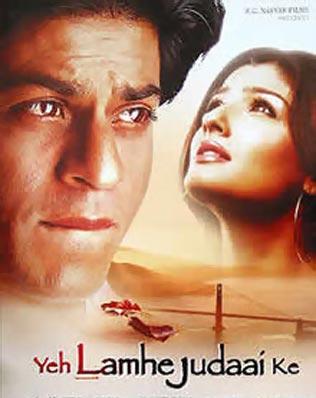 M

ade in 1994 and released in 2004, this is a film worth watching only for academic reasons, to see perhaps how well it ages.
The answer? Not well at all. Shah Rukh lacks the intensity we associate with even his weaker films in this boring mishmash of genres.
Image:
Shah Rukh Khan and Raveena Tandon in Ye Lamhe Judaai Ke
6. Mohabbatein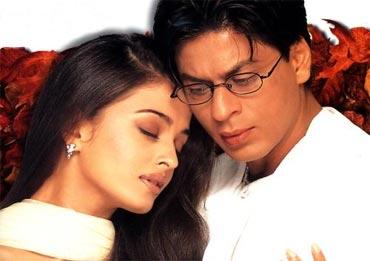 A
ll of India expected something truly special from Aditya Chopra in his follow-up feature after the hyper-successful DDLJ.
Despite casting Khan and Amitabh Bachchan together, this insipid feature proved to be nothing but an amazingly pointless vehicle for star kids who had no business being in the movies.
Image:
Aishwarya Rai and Shah Rukh Khan in Mohabbatein
5.RA.ONE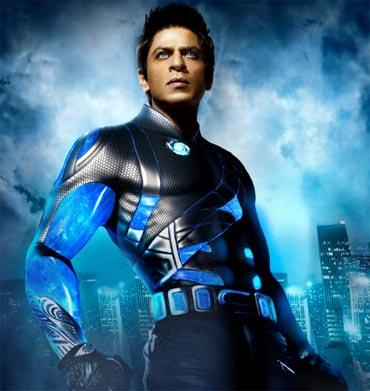 R
a.One
, in which Shah Rukh Khan payed out nearly Rs 200 crore to make a film without an ounce of ingenuity, humour or smarts.
If you want to see Khan grab between Arjun Rampal's legs, however, this is the film for you.
Image:
Shah Rukh Khan in Ra.One
6.Kabhi Alvida Na Kehna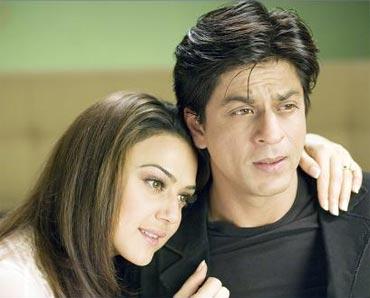 O
ne of Khan's most insufferable performances came in this Karan Johar film, a disastrous effort that can only be describes as a romcom about infidelity.

Khan, playing an irritable loser with a limp, took the character's affliction too literally and gave us a truly lame lead.
Image:
Preity Zinta and Shah Rukh Khan in Kabhi Alvida Na Kehna
Continue reading...