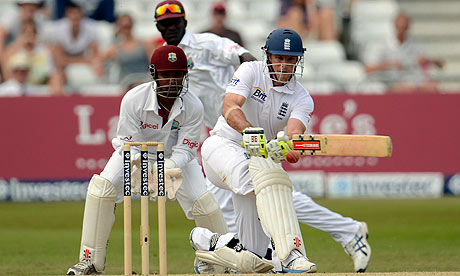 England won the second Test, and with it the three-match series, just as they had threatened to do ever since West Indies were 136 for six on the first afternoon. That it took a little longer on the fourth day than many had anticipated once the England seamers had reduced them to 61 for six overnight, a lead of only three runs, was largely down to the efforts once more of Marlon Samuels, who continued his fine run of form with an unbeaten 76, and some more resistance from the captain, Darren Sammy, with 25.
When Jimmy Anderson finally ended the innings with his fourth wicket, to set alongside four for the redoubtable Tim Bresnan and one apiece for Stuart Broad and Graeme Swann, the game was into the afternoon session and West Indies, having extended their innings to 165, had set England 108 to win.
Carefully at first but more expansively later Andrew Strauss and Alastair Cook knocked the top from the run chase with an opening stand of 89 before Strauss, on 45, chipped Samuels' offspin to cover. On the way they had passed 5,000 runs as a pair, most but not all of them as an opening partnership, the only England pair to do so and behind only Sachin Tendulkar and Rahul Dravid, Gordon Greenidge and Desmond Haynes, Justin Langer and Matthew Hayden, and Mahela Jayawardene and Kumar Sangakkara.
It was left to Cook, 43 not out, and Jonathan Trott, 17 not out, to take things to a conclusion.
The final match of the series, which begins at Edgbaston on Thursday week, has thus been rendered extraneous in terms of the Wisden Trophy for which the two sides compete and, for England at least, there will be some rumination before they announce their squad for Birmingham.
Henceforth this is a busy summer of international cricket even if it is likely to get lost in the maelstrom of competing attractions. First there are ODIs against West Indies; next, five more ODIs against Australia, being played on a quid pro quo basis in order to ensure equivalent matches in Australia immediately prior to the 2015 World Cup, and then the Test series against South Africa which will determine the right of one side or the other to be ranked No1.
There are two schools of thought. The first suggests that some such as Anderson and Broad see out the Test series and are then rested for the ODIs. The other, given that England also have an imperative to raise the standard of their one-day side, sees an opportunity to rest both of those key players from the final Test and have what might almost be viewed as a bowl-off between Bresnan, Graham Onions, who is rated highly by the South Africans in particular, and Steven Finn, the quickest of the three. This surely makes more sense.
For West Indies, no matter how tenaciously they have competed, this second Test represents another hefty defeat, the eighth in 18 matches under Sammy, to sit alongside two wins only, one of them against Bangladesh. Somewhere along the line, in almost every match, they have one session that destroys them.
But have some sympathy for Sammy. The expectations of many, that years of mismanagement, neglect and a failure of succession planning alongside an arrogance that believed the production line would always produce come what may, could instantly be overturned are misguided. It will be a slow process. When Nasser Hussain and Duncan Fletcher took over a demoralised England side, their first task was to stop them losing and that, rather than more ambitious things, should be West Indies' aim.
Their first taste of success is more likely to come in the World T20 in Sri Lanka in September, when they will surely start as one of the favourites. Their first task now, though, will be to reassess their batting with the hapless Kirk Edwards, without a double-figure score on the entire tour, vulnerable. It could mean moving everyone up a place as in the second innings here on account of Edwards' illness , with Narsingh Deonarine, who played against Australia, coming in at six.
The resistance from Samuels and Sammy during the morning was excellent, however. Their partnership extended to 49 before Sammy, caught on the crease, became the fifth of six lbw victims in the innings, a mode of dismissal for which England were bowling in the second innings with the ball reversing and keeping low on occasions.
There followed some support for Samuels from Kemar Roach, who had the impertinence to hit Broad through the covers, pull him fine for four more and then take a further boundary with what Wayne Daniel used to call the "cluck", that Caribbean clip off the hips accompanied in practice by a click of the tongue.
But Anderson did for him, Swann had Shane Shillingford caught at slip and, after Samuels had launched the offspinner for a brace of straight sixes, Anderson finished things off.