The Pakistan Government on Wednesday dismissed India's charge of Pakistani state institutions being involved in the 26/11 Mumbai terror attacks.
Addressing media in Islamabad, the Pakistan Prime Minister's Advisor in the Interior Ministry, Rehman Malik, termed New Delhi's charges as "baseless", and added that Islamabad would not investigate the Mumbai terror attack on the basis of evidences provided by New Delhi, as they were "not reliable".
Defending Pakistan's Inter-Services Intelligence (ISI), Malik rubbished 26/11 Mumbai terror attack plotter Syed Zabiuddin Ansari alias Abu Jindal's claims of the ISI being involved in the 26/11 attacks.
He said the ISI protects Pakistan and is not involved in carrying out terror strikes.
Malik squarely blamed Indian Home Minister P Chidambaram of "unnecessarily targeting the ISI", and claimed that all the allegations against Pakistan have been proven to be false till now.
He pointed out that Jindal was an Indian citizen (a resident of Beed in Maharashtra), and therefore, could not be said to be working on behalf of state or non-state actors from Pakistan.
"On previous occasions, when India accused the ISI of being behind the attacks, they were later proved to be wrong. Blaming someone is very easy, but proving is very, very difficult," claimed Malik.
Chidambaram had on Wednesday said that India had been on Jindal's case for over a year, and the latter had admitted during interrogation by the Special Cell of the Delhi Police to the involvement of Pakistani state agencies in the 26/11 attacks.
Reacting to Malik's note on Tuesday, Chidambaram said that India was willing to share information about Jindal with Pakistan
Jindal was arrested at the Indira Gandhi International Airport on June 21 after being brought from Saudi Arabia, and is now in the custody of Delhi Police till July 5.
The Maharashtra Anti-Terror Squad (ATS) has now produced a production warrant in Delhi's Tis Hazari court for Jindal's interrogation.
The ATS wants to question him regarding the Aurangabad arms haul case of May 2006 and the German Bakery blast case of February 2010.
The ATS also wants to question him regarding the sleeper cells active in Maharashtra and about his alleged connections with the Indian Mujahideen.
The Indian Mujahideen was allegedly behind the 13/7 serial blasts in Mumbai in 2011 and the ATS had filed a charge sheet in the case last month.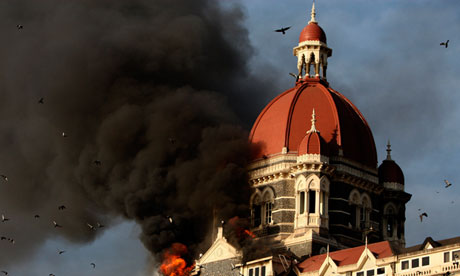 The National Investigation Agency (NIA) and the Intelligence Bureau are also interrogating Jindal. He has reportedly given inputs about the Lashkar-e-Toiba's sleeper cells in the country to the police, based on which, police teams will be carrying out raids across Maharashtra.
Police say Jindal used different names in each incident that he was involved in over the past six to seven years.