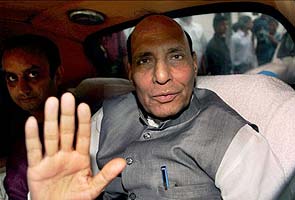 Rajnath Singh, the new BJP president, has been here before. In 2005, when LK Advani stepped down as party chief, Rajnath Singh emerged as a consensus candidate to fill his shoes.
This time, when it became clear that Nitin Gadkari could not be given a second term, Rajnath Singh was again picked as the consensus candidate. The Rashtriya Swayamsevak Sangh or RSS, which was pushing for an unprecedented second consecutive term for Mr Gadkari, has tersely said that "dissidents have won." But for the RSS, the ideological mentor of the BJP, if first choice Nitin Gadkari could not be party president, then Rajnath Singh would be the next acceptable choice.
Mr Singh is an old RSS hand. He joined the Sangh as a teen and his interest in politics was shaped by his association with the organisation. He has held posts in the RSS.
He is also the BJP's face of the farmer. Mr Singh was born in a family of farmers in a small village of Uttar Pradesh in July, 1951. He, however, charted a different course for himself, earning a physics degree from Gorakhpur University, and becoming a university lecturer.
In 1969, an 18-year-old Rajnath Singh began his political innings with the BJP's student wing the Akhil Bharatiya Vidyarthi Parishad. He was deeply influenced by socialist leader Jayaprakash Narayan and was an active participant of his movement against the Indira Gandhi government in the 1970s. Mr Singh was jailed during Emergency.
First elected to the UP Assembly in 1977, Mr Singh became education minister in the first BJP government in the state in 1991. During this stint, he introduced Vedic mathematics to the state syllabus. He would later hold many important positions, including that of UP Chief Minister and several portfolios in the central government during the NDA regime. He has also been a Rajya Sabha Member of Parliament.