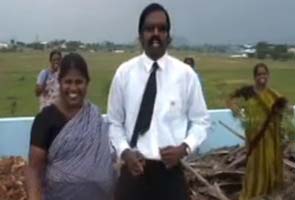 Disclaimer: I am not easy fan to net.But this is certified Gold. I am laughing uncontrollably as I write this, so excuse the typos.
Move over Justin (discovered on YouTube) Beiber. Meet Wilbur Sargunaraj. His YouTube channel claims he is India's first YouTube star and just that he aspires to be that makes him a worthy Catch. Of course it doesn't hurt that his "hit" single Love Marriage - variously called Arranged Marriage - has over 700,000 views and growing.
In an interview to a Canadian TV station last year, Wilbur said he was already a cult in India and has been tweeted about virally, so I have discovered him late, I reckon. That does not diminish my enthusiasm in the least. My first encounter with Wilbur was when my boss sent me a link to Love Marriage on YouTube. The contents of the mail shall remain secret, suffice to say that she was visibly...well...moved.
As I was as soon as the song started to play.
Wilbur, nattily dressed in white shirt and tie and shades, hails an autorickshaw which thereafter plays a significant role in the video. And then, Wilbur launches into song, nay chant, nay song...and explains to his "Mummy-Daddy" that he does not want an arranged marriage. The refrain "I want a lou marriage," is straight from the heart and is indeed described on this "official video" from his "debut album" as "the cry of Wilbur's heart."
Catch him here. The red heart refuses to fade:
I have never wished I knew Tamil as hard as I did today to catch the rest of his lyrics. If someone shall translate for me, I shall be grateful.
Love Marriage/Arranged Marriage had me begging for more and so I duly landed on Wilbur's YouTube channel page. Awesome attitude. Check out his logo - a seal of quality with the legend (he calls it his vision statement) alongside - "Making the common extraordinary".
That he certainly does. The women on that video are clearly not professionals and Wilbur is proud that they are part of his effort rather than "pretty men and pretty women" that sing songs in Bollywood. Wilbur says in that interview that the smiling woman in the video earns a living milking cows.