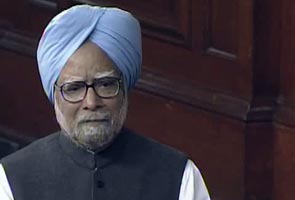 New Delhi:
On the back foot in the face of multiple scams, Prime Minister Manmohan Singh defended himself and his government in Parliament today, assuring the country that he would strive to "clean our public life."
The PM said though "unfortunate developments have taken place in the areas of telecom and CWG, I assure the House there is nothing we will not do to clean our public life."
On the CWG scam, the PM said anyone found guilty would not be spared. "If there is a scam, it must be dealt with the law of the land. Law of the land must punish the wrong doers, he said.
On the telecom scam, Dr Singh defended the first-come-first-served policy followed, talked about why he had not intervened and pointed out that the "tremendous growth in the telecom sector on the basis of sound policy" could not be overlooked.
He also said his government would cooperate with all agencies to ensure that the truth came out. He reiterated that there had been no allocation of terrestrial spectrum to Antrix or Devas and said reports of loss of several lakh crore rupees had no basis.
The PM said inflation had become a problem in the last 18 months and the government's policy was to control inflation in a manner that did not hurt employment growth. He said inflation had to come down to seven per cent at the end of this fiscal.
He assured the Opposition that the government will do all it can to bring back the black money stashed abroad. "Accumulation of black is not a product of the last 4-5 years and has been there for long years. We will sit together with (Opposition) parties and seek their help to see how the black money problem can be dealt with."
On Jammu and Kashmir, Dr Singh said the "government will give no quarters to secessionists", and would "strengthen the hands of the state government". He reiterated New Delhi's position of resolving all outstanding issues with. " We sincerely hope Pakistan will grasp our hand of friendship, " he said.
This comes at a time when the two countries are looking to resume the stalled dialogue process. Home secretaries of India and Pakistan are slated to meet in New Delhi on March 28.